Forget-Me-Nots Afternoon Tea Dance 2018
News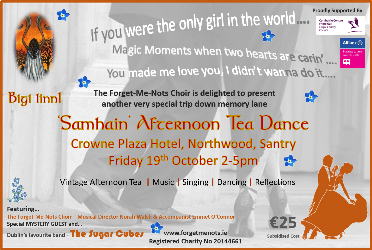 Now in its 3rd year, this wonderful event for seniors will not disappoint! We have chosen the beautiful Crowne Plaza Hotel in Northwood, Santry for its ground floor ballroom - suitable for wheelchair users and anyone with mobility constraints. The Sugar Cubes band are back by popular demand and this year one of Ireland's best loved celebrities (a singer and comedian) will call in to sing with the choir and meet everyone! Mayor of Fingal - Cllr Anthony Lavin - will also call in to say hello!
The afternoon will feature:
Vintage High Tea with light music from the band ensemble so people can chat to each other. Tea will include:

Sandwiches

Scones with Jam & Cream

Pastries

Freshly Brewed Tea & Coffee

Note: All Allergens listed

Choral performance by The Forget-Me-Nots with acclaimed Musical Director, Norah Walsh (RTE Choir of Ages) and Accompanist, Emmet O'Connor

Featuring old favourites like "You Make Me Feel So Young" and "Dear Hearts and Gentle People"

Visiting Celebrity who has recorded and re-released "The Dutchman" with us in aid of 'Engaging Dementia' (formerly Sonas apc)

Sing-song with everyone welcome to join in - song booklets provided (and to take home)

Dancing with The Sugar Cubes band

Raffle with great prizes

Souvenir for everyone

Bar service
The ballroom will be lit up in Autumnal colours to celebrate the coming of Samhain and memories of old Dublin will be projected on the walls - evoking times past in the most happy of atmospheres. This event is not-for-profit and is subsidised partly by Fingal County Council and by Allianz Business to Arts Community Award 2018. Tickets are on sale for the low price of €25 offering fantastic value for this top-notch fun event. Our first Tea Dance was held in The Marine Hotel to celebrate the 1916 Centenary - it was such a huge success that we decided to host another and moved to a bigger venue - The Grand Hotel - as the demand for tickets was so high. The Grand Hotel Tea Dance was also a huge success but the large ballroom was on the 1st floor which was not ideal for our seniors so this year we searched for a hotel with a big enough room to meet our demand AND located at ground level. We found the perfect hotel in The Crowne Plaza, Northwood, Santry (on the old Airport Road near the Oscar Traynor Rd junction). This year promises to live up to the huge success of the last two years with even more room for the seniors of Dublin!
There is a special welcome for:
Dublin North Seniors

Families impacted by Dementia & Memory Loss - Individuals, Carers & Family Members

Nursing Home Residents & Carers

People with cognitive difficulties

People with mobility constraints - fully wheelchair accessible

People who love to sing, dance, laugh and have fun!
You can buy tickets @ €25 each in the following ways:
By Phone: Call Orla 086 383 2257, Fiona 086 809 0248, or Claire

086 826 7182 to place an order - they will arrange ticket delivery/collection options. Payment can be made by wire transfer to:
Bank of Ireland

A/C Name: The Forget-Me-Nots Organisation

IBAN: IE34 BOFI 9006 9070 1124 46




REF: Your name or group
Directly:

Visit Baldoyle Community Hall (Office upstairs) - tickets are avalable for sale and collection on-the-spot (while supply lasts)
This is a not-for-profit event run by our registered charity - No 20144661 - The Forget-Me-Nots Organisation.
Treat your beloved seniors to this magical afternoon filled with song and joy. Our only goal is to make them happy!